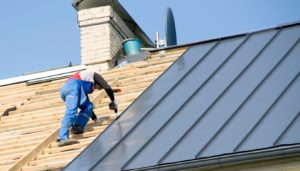 One of the first steps to a long lasting metal roof is proper installation. The right installation job will have your metal roof looking and performing great for years to come. Luckily, there are some steps you can take to make your metal roof installation a success from the beginning. Read on for our expert's tips for a successful metal roof installation!
Choose The Right Material
Choosing the right type of metal panel for your environment and personal taste is a significant detail to consider. Metal roofs come in a variety of materials and designs, each coming with their own pros and cons. Some materials are better suited to saltwater exposure, while others fare better in colder climates. Do the proper research before making a decision!
Hire An Experienced Team
Make sure your installation crew is well versed in installing metal roofing. Experience with sheet metal far outweighs other roofing material experience. As long as the team knows what they're doing, you're less likely to experience system failure. You should also do your due diligence before signing a contract. This includes acquiring the building permit so the team can adhere to the building codes, as well as a letter confirming the contractor's insurance. 
Make Note Of These Features
By ordering the proper length panels, you can minimize end laps. 

Adjoining panels should overlap by a minimum of 6 inches. 

A reinforcing plate, top panel strap, and a sealant should be used with overlapping adjoining panels. 

The seams should interlock, while simultaneously leaving room for expansion and contraction.

A higher roof slope is better for shedding water. Minimizing ice and snow build up. Roofs with lower slopes can lend themselves to water build-up. Ultimately breaching the integrity of the structure.
Forewarn Your Neighbors
Installing a new metal roof can be noisy! As a courtesy, take the time to let your neighbors know a few days ahead of the project.
A new metal roof is a significant investment. Ensuring the roof installation is done right the first time around is critical. By following our tips, you can be sure to have a long lasting, structurally sound, and gorgeous metal roof. For more tips, contact our team at  1.855.838.9393 or info@londonecometal.com.