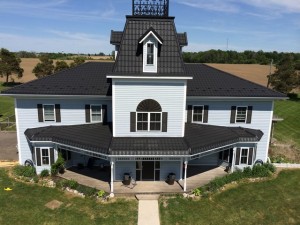 Metal roofs are one of the best options for homeowners who need a new roof. They provide durability, efficiency, and strength. While metal roof installation can be done on one's own, in a DIY style, it's important to be fully aware of what the project entails. Before committing to installing your own metal roof, consider the following best practices. These tips will help you understand the project, and if you're better off getting assistance in installation.
Top of the Line Supplies
If you want your metal roof installation to be worth your time, you have to source the best products. While it's possible to find cheap providers, you likely don't want something cheap to protect your home.
If you've undertaken similar projects, you might know where you can find all the materials you need.  However, if this is your first roofing project, you may be unaware of all the materials you need. To make it easier, consider purchasing a starter pack that comes with all the materials you need. London Eco-Metal provides best in class goods that range in style and utility. Explore our products to find a metal roofing style that suits your home.
Quality Equipment
Installing a roof, metal, or other, requires a load of tools and equipment. When you're installing your own metal roof, you have to be fully prepared with all the equipment you need. You're going to need snips, clips, fasteners, panning tools, riveting tools, and much more.
As you shop around for the tools you need, you have to make sure they're quality. This will ensure your roof is properly constructed. When you use London Eco-Metal's DIY Kit, you receive all the materials you need and a list of the tools you need. If you'd like to purchase the tools from us, you can do that as well.
Planning
Taking on a large project such as installing a roof demands manpower and proper planning. Your installation will be much smoother if you have experienced professionals helping you out. However, if you want to take the project on solo, be ready for the hours you'll need to put in to plan the project.
It's best practice to consult with roofing professionals, so you can have a detailed plan of attack. London Eco-Metal offers seminars to teach strategies on DIY roofing. All you need to do is fill out a form to request an installation seminar. That way, you'll be well-prepared for the task at hand.
The Bottom Line
Metal roof installation projects are not something to be taken lightly. They require careful planning, the best materials, and endless amounts of niche equipment. To be sure you're fully prepared in installing a metal roof, contact London Eo-Metal today. We can discuss your options and help you get ready to install your own roof