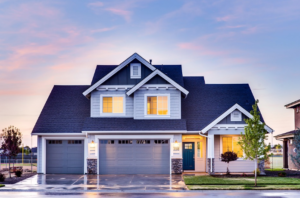 In recent years, metal roofs have rapidly gained popularity. While the trend is a stylish one, there's much more to it than the aesthetic value. The installation of a metal roof will increase a home's value. For this reason, many homeowners are looking to change out the old shingle roof for a modern, durable metal roof structure. Lucky for homeowners, they get several benefits from their new roof.
How Do Metal Roofs Increase Home Values?
Long Life
Metal is a durable material, and when it's used for roofing systems, homes benefit. Whether the roof is built from copper, aluminum, steel, or another option, metal roofs have an improved lifespan compared to traditional shingle roofs. In fact, the International Association of Certified Home Inspectors found metal roofs last, on average, 2-3 times longer than shingle or asphalt roofs.
Energy Efficiency
Many homeowners have become more concerned about their energy consumption. Subsequently, the same homeowners have made the switch to metal roofs, as they found the option to be much more energy-efficient than their old shingle roof.
Metal roofs can reflect light and heat in the summer and insulate heat inside in the winter, thereby saving the costs of cooling and heating.
Strength
There's no way around it—metal is significantly stronger than wood or asphalt. No matter where you live, your home can always use improved protection against the elements. Unlike frequent damage to shingles when a storm rolls through town, your metal roof will never suffer. Hail, wind, rain, and ice will have a near-impossible time damaging your roof.
What's more, in dry areas where forest fires are common, your home is protected against embers as metal is non-combustible.
Reduced Homeowners Insurance
As a result of the above benefits, many home insurance providers have lowered insurance rates on homes with metal roofs. These companies are aware of the energy efficiency, life, and strength they offer. Thus, home insurance premiums are reduced to match the offset of the investments made by the homeowners.
Increased Market Demand
Considering the growing popularity of metal roofs, many people in the real estate market are honing their searches on homes with metal roofs. Potential buyers know the money they can save on energy bills, reduced repairs, and long life. Thus, metal roofs increase home value.
If you're interested in learning more about metal roofs, schedule a consultation with London Eco-Metal. Our roofing professionals can help you find the perfect roofing system for your home. With our services, your home's value can increase while you save money on repairs, energy bills, and more. Contact London Eco-Metal today.