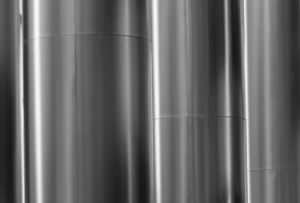 Metal roofing provides an exciting green construction solution. With low maintenance, energy efficiency, and durability, your new roof can last for fifty years or more. Two popular metal roofing types are aluminum and steel. Both commercial and residential structures use these metals. Which is better? Learn everything you need to know about these metal roofs.
Steel Roofing Basics
Metal roof manufacturers typically produce metal roofs in giant rolls. Steel roofs have a special protective coating to prevent rusting and adds color. Two metal roofing types of coating are used for steel: one hundred percent zinc (galvanized coating) or Galvalume. Galvalume contains both aluminum and zinc to increase rust-resistance. Galvalume withstands salt water exposure better than galvanized steel.
Steel has more durability than aluminum roofing. Additionally, steel has a more affordable price tag. While both steel and aluminum are fire resistant, aluminum requires the right sheathing and underlayment to achieve a Class A rating.
Aluminum Roofs
Aluminum roof has a higher cost. Because aluminum withstands seawater, residential homes near the coast benefit from aluminum roofing. The aluminum minimizes damage from salt. Steel roofs might lose their protective coating when exposed to saltwater. Lightweight aluminum stores very little heat and has more malleability.
Benefits of Metal
Regardless of metal type, both galvanized steel and aluminum roofs benefits from durability and longevity. They require much less maintenance than traditional asphalt. Additionally, homeowners save considerably between energy savings, insurance benefits, and low cost maintenance.
Don't worry about replacing shingles after big storms. Unlike asphalt tiles, metal withstands high winds, hail, and the cold. Steel and aluminum also hold up well to hot weather, too, with special "cool roof" technology. Be warmer in the harsh winters and cooler during the summers. Save money on heating and cooling costs.
Easy Installation
Another key benefit to metal roofing is the easy installation. Roof installation happens relatively quickly with less labor costs and waste. In fact, in some cases a professional contractor can install your new roof older an older roof. Save money on demolition costs and labor.
When you need the best roof installation in the region, contact London Eco-Metal. We pride ourselves on superior quality and excellent customer service. Our seasoned staff has installed hundreds of residential and commercials roofs. Set up your initial consultation today. Our friendly staff will be happy to answer your important questions. Contact us today.