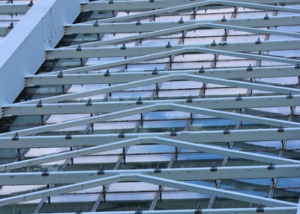 No matter what type of home you have, metal roofs remain the number one sustainable and durable roofing option. Are you looking for energy efficiency? Do you want a versatile attractive roof that enhances overall curb appeal and raises your home value? Then you need a metal roof. When you install a new roof with metal roofing suppliers at London Eco-Metal, you will enjoy over fifty years of high-quality protection and innovative cooling technology.
The Power of Energy Efficiency
In today's volatile climate, saving money on energy costs doesn't just save cents, it makes sense. Because your new roof reflects solar heat, expect to lower your overall cooling costs by about 25%. Yes, that much. Additionally, your metal roofing suppliers can work with you to install solar panels with most roof solutions.
Enjoy the best in sustainable technology and environmentally friendly design. Did you know that many metal roofs are made of recycled materials? And metal is 100% recyclable. Save extra money and reduce waste when you install a new metal roof over your older roof.
Fire Safety
As climate change drastically changes weather systems and temperatures, having additional fire safety will protect your home and family. Your new metal roof will not ignite and spark during lightning strikes or wildfires. Protect what matters most to you.
Longevity
When you have professionals at London Eco-Metal install your new roof, you will enjoy over fifty years of security. Most traditional roofs last only fifteen years, less in harsh climates with high winds, heavy precipitation, and cold weather. The key to roof longevity lies entirely with the quality of the initial installation. You need the best materials and the most experienced team to install your new roof. Trust London Eco-Metal.
Versatility
Enjoy increased home value and curb appeal with metal construction. Choose from hundreds of style and color combinations. Find the style that fits your unique needs. Not sure what options are available? Our talented designers at London Eco-Metal will be happy to guide you through the process. Find the right roofing solution for you. Contact us today for your consultation.