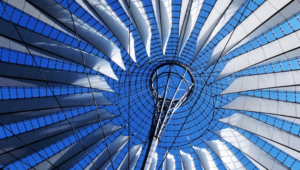 In the North America, metal roofs gained popularity in the late 1800s. Partially for economic reasons and partially because of convenience, homeowners and farmers used metal for barns and homes. The low metal roof cost and ready availability during the industrial era, as well as its strength and durability, explains why millions of structures from a century ago still have metal.
Early Days
Unlike today, roofs of the past consisted of materials did not withstand rust and harsh climates well. Before the 1800s use of sheet iron covered surfaces. Galvanizing metal in the 1830s made the metal much stiffer. Metal roof cost for installation lowered considerably with less labor and time. The French first started using zinc to protect the roof from rust.
The 1900s
Builders used stamped sheet roof tiles and large panels for a variety of structures. For example, agricultural and industrial buildings used the very expansive wide panels. Homeowners who wanted the look of Spanish tile often opted for stamped tiles.
Today's Technology
Metal roofs have advanced considerably in the last fifty years. Today metal roofs have become the first choice for energy efficiency, durability, and sustainability:
Withstand high winds and harsh temperatures
Fireproof protection
Easy to install
Additional insulation conserves heat
Ideal for food and medical storage
Low maintenance
Versatile
Lightweight for any project
Affordable
Last for five decades or more
Sustainable
Compatible with most solar panel systems
Available in a limitless number of colors
Perfect for agricultural
Increase home value
Additional tax benefits
Lower insurance costs
And so much more
As you can see, when you choose metal roofs today, you have a durable material that will protect your family and property for half a century.
When you need to install a new metal roof, call the roofing experts at London Eco-metal. We pride ourselves on unparalleled customer service and the best manufactured products on the market. We remain industry leaders you can trust. Find out why thousands of customers in Ontario have chosen us again and again.
Schedule your first consultation with us. We promise to provide you with the perfect roofing solution. Large budget or small, London Eco-Metal will be there for you. Contact us today.