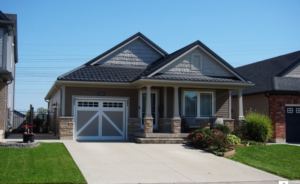 The most sustainable roofing material today is metal. The cost for a metal roof includes simple installation, decades of durability, sustainability, and energy efficiency. Your new roof has a wide variety styles and colors to match every home, style, and neighborhood. What are the environmental benefits?
Why Metal Roofing is Better
Traditional asphalt roofing can deteriorate quickly in harsh environments. Cold, heavy winds, moisture, mold, rodents, and fire can all decimate an asphalt roof. Traditional roofs may last twenty years. They involve regular maintenance and replacement. Compare that to the low maintenance, durability, and relatively affordable cost for metal roof construction. Enjoy an aesthetically beautiful, fireproof, secure roof to protect your family and home.
Benefits
Your metal roof will give you numerous benefits for your pocketbook and the environment, including:
Minimal carbon footprint
Often made from recycled materials
Sustainable
Energy Efficient
Cut energy costs by twenty percent or more
Keep your home cooler in warm seasons
Low weight
Last fifty years or more
Withstands hail and harsh weather
Termite-proof
Fireproof
Integrates with many solar panel systems
Install new roof over old roof
As you can see, there are numerous environmental and financial benefits to metal roofing. You can install your new roof over your asphalt roof, saving on time, labor, and cost of installation. Because many of the roofing materials are made of recycled material, your roof can be recycled entirely if you ever choose to replace it. However, your roof may last fifty years or more with minimal maintenance.
Solar Energy

New technology allows for easy integration of solar panels with metal roofing. In fact, you can install a variety of solar options on your metal roof, regardless of style. Speak with our trusted professionals about how you can make your home more energy efficient with a metal roof. We pride ourselves on our craftsmanship and good work ethic. Call us today. Our friendly staff will be happy to answer any of your questions. Contact us.