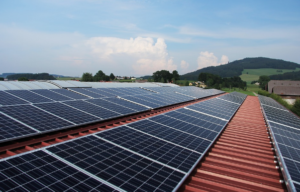 Metal roofing provides a durable, aesthetically pleasing, and light option for homeowners and business owners alike. The affordable materials are made to last a lifetime with low maintenance. Whether you need metal panels for a wall, need a new roof for your home, or need metal construction for an upcoming project, there is no doubt that energy efficiency has become the buzzword for true 21st century construction. A great example of energy efficiency includes solar panels installed on metal roofing.
The Metal Roofing and Solar Panel Advantage
Solar panels harness the energy of the sun and provide needed energy for your home. Contractors today have experience with metal panels for a wall, metal roofing, and insulated metal panels. Because metal has become so popular, new options for installing solar panels on a metal roof have been developed.
What You Need to Know
There are several key factors that make solar panels popular with metal construction:
You can easily install your solar panels on the metal roof
Solar metal roofing easily hosts standard PV panels
New innovative mounting setups like straddle blocks and mounting clamps make installation easier
Increase the cooling benefits with solar panels
Create an eco-friendly home environment
Use thin film solar
Standing Seam vs. Metal Tile Roofs
Installation differs based on the type of roofing. For example, you would use Quick Mount PV for standing seam metal roofs. The solar panels clamp on easily. This type of installation will be the simplest and less costly. For tile roofs, the installer may use the Quick Mount PV again. This helps keep the solar panels on for a long time. Both types do not require drilling.
Corrugated Metal
Your contractor will need to drill holes on corrugated metal roofs. The straddle blocks help keep the solar panel safely centered on the roof.
Thin Film Solar
Some homeowners choose thin film panels. These are only available for certain types of surfaces and roofs. They use less energy in manufacturing. Install these even quicker than standing seam.
Interested in finding out how you can make an eco-friendly home or business? Call us today to find out our incredible options. Our experienced friendly staff will be happy to answer your questions. We look forward to hearing from you.