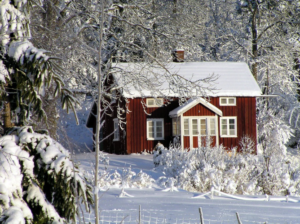 Ice damming, leaking, and snow buildup can cause serious issues for your home during the harsh winter. Many homeowners find that metal roof snow guards can help reduce ice damming considerably. But did you know that metal roofing both prevents ice dams and can reduce snow buildup overall? The metal roofing system uses a combination of gravity load, roof color, other systems to melt the snow and prevent snow buildup and ice damming
What Causes Ice Damming?
Overall, ice damming occurs when melted snow runs down a roof and hits colder areas of the roof at the eaves. The melted snow then re-freezes. Metal roof snow guards prevent this from happening. Ice damming often occurs when the temperatures are extremely cold and the sun does not melt the entire roof. Instead, the "hot spots" on the roof cause snowmelt on only parts of the roof. Ice damming can also form when snow "packs" and does not slide off the roof.
Snow and Metal Roofing
Metal roofing has a system to increase snowmelt overall. The snow accumulates and lets gravity force the snow downward to avoid buildup. You can help this process by choosing specific roof colors that help increase snowmelt. High-quality metal roofing will have no side effects of ice melting.
Snow Guards
During very harsh winters, ice and snow dams can cause serious harm to property and people. Snow guards hold snow. They prevent ice and snow from falling off the roof and causing damage or injury. The snow is released in small amounts. This minimizes harm to property and people.
You don't want an avalanche of snow and ice to fall. The guards are ideal for steep roofs with noticeably slick roofs. However, you may not want snow guards on low pitched roofs. Speak with a professional before installing any barriers on your roof.
Call our seasoned professionals today about how metal roof installation and how to protect your roof in the winter. We can help you keep your home safe. Contact us today.