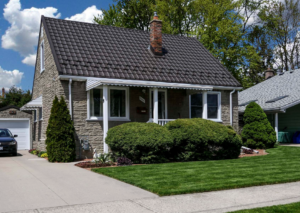 Metal roofs provide extra protection and insulation for your home. Whether you opt for aluminum, stainless steel, copper, or another type of insulated metal roof panels, you might have some concerns regarding rust. While traditionally centuries-old metal roofs did have a classic red rust patina, today modern technology prevents rusting.
Dispelling the Myth of the Rusty Roof
As a homeowner, you might think that a metal roof will end up deteriorating over time. However, today the metal sheets and coils that become insulated metal panels have a special coat engineered to withstand rust formation. This protective coating prevents rusting considerably. You can enjoy your metal roof for over half a century or more. Add protective paint systems to further help prevent corrosion.
Galvalume®
Engineers use many protective coats to protect your metal roof from rust. Galvalume® has a protective coating of aluminum, zinc, and silicone. The core substrate is steel. Manufacturers hot-dip the steel with the protective coating. The combination of strength and low-cost makes your roof rust-resistant. Engineers designed Galvalume® to have self-healing properties.
Aluminum
If you live in a coastal region, aluminum roofing will protect your home more than steel. Why? The constant salt causes rust and corrosion over time. However, aluminum takes longer to corrode than steel. Additionally, the white aluminum rust blends in with most roofing materials, avoiding that old "red rust" look. Speak with our roofing professionals about which material is best for your region.
Other Materials
Zinc will develop a patina layer called zinc carbonite. Zinc carbonite protects from corrosion over time. Stainless steel has rust-resistant qualities. Copper roofing develops a protective patina, as well.
Maintenance
Like any roof, your metal roof needs regular maintenance to prevent rusting. Although you will not have to replace and repair your metal roof with the same frequency as traditional asphalt roofs, you will need to take care of any scratches, dents, and perforations to prevent damage.
Call us today about installing a metal roof for your home. Our friendly experienced professionals are ready to help you.