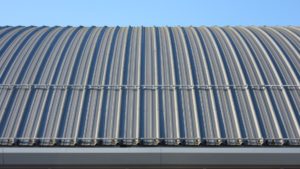 Thinking about metal roof installation for your home or business? What are the costs? Can you avoid the waste and cost of removing your old asphalt shingle roof? Should you hire professional constrictors or try to install the metal roofing on your own? Let's consider some of the key benefits and challenges of installing a metal roof.
Installing Over an Old Roof
Perhaps one of the more appealing benefits of metal roof installation is that it is possible to install a new steel roof over a shingle roof. As long as you keep to the building codes in your area, it is possible to avoid tearing off the old roof.
Metal roofing is a lightweight, durable option that does not add additional weight to the structure of the home. Because of this, layering the new metal roof over old shingles can save you money and hassle. Additionally, installing over the shingle roof will reduce the noise that is often associated with steel roofing. Before installing, be sure to contact the local building department to review code requirements in your area.
A Lifetime Investment
Asphalt shingles require replacement every ten to twenty years. However, metal roofing can last a lifetime, up to seventy years. The roof is often guaranteed for thirty to fifty years, depending on the warranty. The steel shingle system is often preferred over the standing seam roof because it mimics more stylish traditional roofing styles. The metal roof may be installed over a framework of 2x2s, ensuring further durability, especially in extreme weather.
DIY Versus Hiring Contractors
Some homeowners choose the do-it-yourself route to reduce the cost of installing a metal roof. Companies can provide kits for installing steel roofs. These kits often do not have the same insulation and ventilation options as a professionally installed roof. Additionally, installing a roof does require a significant bit of handyman knowledge that might be difficult for the novice.
Be sure to contact a professional installation contractor to find out the pros and cons of DIY installation. Metal roofing will provide your home with a lifetime of security and insulation. Eco-friendly and durable, you will enjoy your metal roof for decades to come.