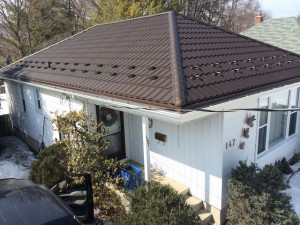 A steel roof is a great product – long lasting, energy efficient and it looks great, too. But like all great products, there are some things you'll need to do to get the best out of it – and some things you'll want to avoiding doing. Here's a handy list for you on how to properly care for your steel roof.
Make Sure You Clean it Right – It's only natural after a storm or period of heavy rainfall that your roof might look a little dirty, but there's a wrong and a right way to clean it. By using a soft, well-soaked cloth or brush coupled with a solution of detergent and water, you can easily set about cleaning your roof and making it look good as new. Remember – wash from top to bottom!
Prune Surrounding Trees and Clear Your Gutters – Whilst it may not rot, by having organic debris on your roof or clogging your gutters, you're running the risk of preventing it from drying out or damaging your roof, which could lead to problems such as corrosion, meaning it won't perform as well as it is capable of doing.
Pay Attention to the Finishes – When applying a finish, ensure that you look for and remove any chips or shavings, which run the risk of oxidizing and leaving unsightly rusty patches. Make sure you opt for a finish that will produce little glare too – nobody wants to be blinded by a shiny roof, however beautiful it may look!
Don'ts
Walk Around on the Roof – Yes, steel is incredibly strong and likely stronger than any roof you've had before, but that doesn't mean to should be walking around up there. Whilst your steel roof is strong and you're very unlikely to damage it, it wasn't designed for people to be walking on, so take care if you do have to go up and make sure you adhere to the recommendations of the manufacturer – the last thing you want is to hurt yourself.
Try to Install it Yourself – Whilst it's great that people are experimenting more and more with DIY, there are some things that are better off left to the professionals – and a steel roof is one of them. Not only are they trained and experienced, they will they get the job done quicker and will also be able to provide advice on how best to take care of it, which is priceless.
Use Acid or Chloride Based Cleaners – These can be harmful for your roof and cause all kinds of problems, so stick to detergents. Also make sure that you're using soft brushes rather than harsh scouring pads.
See? That Wasn't Too Bad
Caring for a steel roof is easy and requires little more than common sense. By ensuring that you're using the right equipment to clean it, taking the necessary care of it and not having parties up there, you'll have one of the best products on the market and one that will last a very, very long time.