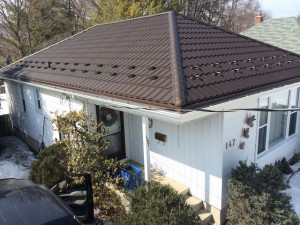 Hiring a roofing contractor is a major consideration which is fraught with risk. Your roof is such an important part of your house, that even when the slightest things go wrong they can cause very large headaches. In order to narrow down your search for the right contractor, it's possible to eliminate a good number of them by looking out for these red flags, which indicate they are unlikely to be the right people for your job.
How to Weed Out the Type of Roofing Contractors Mississauga Doesn't Need
Once you've drawn up a list of the roofing contractors Mississauga has available, talk to them individually to try to get an idea of which ones you would prefer to work with. You'll obviously need to discuss designs, pricing, timescale and the other main features of the project. Some of the contractors might tempt you with shorter completion times, offers on materials, or simply through good old charm. There's nothing wrong with any of that, but there are a number of red flags which, should they come up, will help eliminate that contractor from your consideration. These include the following:
No Insurance Certificates – Any contractor you consider absolutely must have liability insurance, plus compensation cover set up for workers. You should ask to see each contractor's certificates before you even begin to discuss your roofing needs. The big red flag you need to look out for here is if a contractor – for any reason – cannot provide you with these certificates. Your rule should be 'no certificate, no job'. Unfortunately, things don't end there. For the contractors which can show you their certificates, make a note of the particulars and be sure to check that they are genuine, by calling the insurer, before you hire the contractor.
No Track Record – When it comes to roofing contractors, Mississauga has ample provision, including the highly reputable London Eco Metal Manufacturing Inc. It is important to choose a company with local connections, as you can check up on their business operations, referrals and previous work much more easily. You can have more confidence in a company with local offices and happy former customers who live down the road, than a stranger at your door with a slick brochure and an address in another province.
Poor Communication – During your selection process, be sure to ask each contractor as many questions as you feel necessary. If you want to talk to their previous customers, ask them to put you in touch. If you want someone to explain their guarantee policy, ask them to send someone over. You'll soon be able to eliminate those contractors which don't respond on time or don't follow through on their promises. Some contractors may try to overstretch themselves by agreeing to take on your project with finite resources. This is a recipe for disaster. Make sure you choose a contractor who can make time for you and who keeps their promises.
Don't be afraid to be strict when eliminating contractors from your list. Doing so will leave you with a choice of the best roofing contractors Mississauga has to offer.