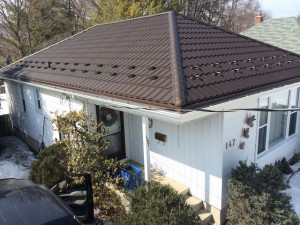 The metal roofing products we offer our customers provide a durable, attractive finish that's suitable for most types of pitched roof applications. They're versatile enough to meld with your traditional building style and cutting edge enough to put the finishing touch on your contemporary home or office building. But that's not all. There's another reason to love these durable, easy-to-install panels that doesn't get a lot of press, but should: they're among the greenest building materials you can buy.
Going Green with Metal Roofing in Kitchener
Most of our clients are sold on the many aesthetic and practical advantages metal roofing provides. Many are also surprised to discover that they're perhaps the greenest building material in the entire roofing industry and here are just some of the reasons why:
They're made from mostly recycled materials.
As such they produce a minimal carbon footprint.
They can reduce the temperature in your attic by up to 1/3.
They can be completely recycled at the end of their long life.
The fact that they're so light reduces on the energy used to transport them.
They reflect sunlight which reduces the stress on your air conditioning system.
Their light weight can also help extend the life of your home or commercial building.
Because they give your HVAC system a break it works more efficiently and lasts longer.
They break the cycle of landfill disposal followed by primary resource consumption.
They're extremely low maintenance and long lasting.
In addition – Metal roofing reflects substantial amounts of solar radiation that contacts the roof of a building instead of absorbing it the way asphalt shingles and rubber do. Metal roofing for Kitchener homes can also be installed directly over many kinds of existing roofs further reducing trips to the landfill and the environmental contamination that ensues from the disposal of roofing materials. And one more thing; a metal roof also makes your home more fire resistant whereas asphalt shingles are little fuel packages waiting for a flame to set them off.
But Wait, There's More
In addition to being an outstanding green building material metal roofing also has many other advantages over other roofing materials. Those advantages include:
Moisture resistance
Wind resistance
High ROI
Tax savings
Stain resistance
Lower insurance premiums
And virtually no maintenance
Whichever of our innovation, energy efficient products you choose metal roofing in Kitchener will provide you with the greenest roof in the GTA. We're serious about environmental responsibility and are constantly revisiting the design, engineering and production of our metal building products in an effort to improve their performance, reduce their carbon footprint and extend their usable lifespan.
Contact London Eco-Metal Today
Metal roofing is an idea whose time has come and the number of homes and businesses that switch every year to metal roofs is proof positive of their relevance and effectiveness. If you'd like to transform your home or business into a green beacon for the community give London Eco-Metal Manufacturing a call today on 905-564-7663 and speak to one of our experts on metal roofing in Kitchener.