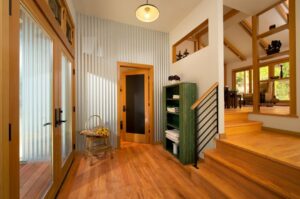 Utilizing metal panels within building projects has become one of the most innovative developments within the construction industry. Used as interior cladding, exterior roofing, inner-room partitions – you name it! These wall panels combine durability with versatility;  reducing overall construction time, increasing structural lifespan, and minimizing both operating costs and maintenance responsibilities. What ways can metal panels be used in your next construction project?
Metal Wall Panels Can Be Used Anywhere In Construction
One of the main benefits of metal wall panels is their versatility! On the exterior, they can replace traditionally heavy wall cladding, such as concrete or masonry products. Panels could even be used to create a roof decking or smaller details such as trims. On the interior, metal panels can replace conventional materials such as wood or drywall . Creating unique wall and ceiling surfaces that are strong and aesthetically pleasing. In both applications, the panels can be used as the entire material or as an accent – creating a focal point on the structure.
Metal Wall Panels Can Be Used In Any Type of Construction
Industrial, agricultural, commercial, residential. It doesn't matter what sort of structure you are erecting, metal wall panels can be used within it. This is in part due to the hundreds of available styles and finishes. The panels can be flat or have varying types of ridges; they can be smooth or have one of many different textures. They are available with natural metal finishes, clear coated, painted in any number of colors or even as composite panels with metal or veneered wood surfaces. Metal wall panels also come in a wide range of shapes and sizes to better accommodate your intended application.
Tips For Achieving Optimal Performance From Your Metal Wall Panels
In order to get the most benefits out of your metal wall panels, you have to incorporate them into your construction project appropriately. The construction team should:
Pay attention to joint detailing between the interior and exterior walls to avoid thermal bridging.

Seal around door and window openings  with a sealant that can withstand your local climate.
Metal wall panels are an excellent option for taking your construction prooject to the next level. When installed properly, your wall panels can provide a sustainable, durable, and low-maintenance material for years to come. Wondering if we can help with your  next construction project? We will be happy to answer any of your questions at  1.855.838.9393 or info@londonecometal.com!