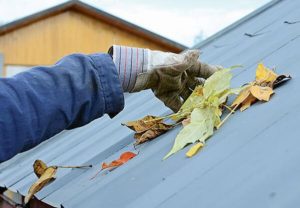 While metal roofs tend to go through phases of popularity, we are sure they will continue to have a large presence through 2022. This type of roofing is strong, sophisticated, and sustainable. As we head into the New Year and closer to warmer weather, now is the perfect time to start planning your exterior maintenance and how you will keep that metal roof looking great for the year ahead!
A Simple Cleaning Will Do
Luckily, another benefit of metal roofing is how easy it is to maintain! Simple cleaning will help reduce damaging elements such as pollution, airborne dirt and organic material debris. And unlike asphalt shingles, metal roofing is far less susceptible to moss, milder, or fungus. Ditch the harsh chemicals, as a quality metal roof cleaning will require little more than water to effectively wash away all the dirt, dust, and other grime.
Proper Maintenance Methods
The MRA (Metal Roofing Alliance) provides the following guidelines for maintaining your metal roof. However, you should still be sure to check your metal roofing manufacturers specific recommendations.
Safety is number one, especially when it comes to roof maintenance. Do not attempt to clean the roof if you are not comfortable or well-prepared to take the proper precautions. Instead, hire a professional roof cleaning service that is experienced and knowledgeable in metal roofing.

Before rinsing the roof, you will need to remove any debris. Clean out all gutters and downspouts, and remove any large items such as branches. It will also help to trim any vegetation away from the roof.

Use the right formula. If water alone isn't enough to remove common dirt and debris, mix 1/4 cup detergent (including mild laundry detergents, car washing soap, mild dish soap) per gallon of water. Follow the manufacturer's instructions to help protect and maintain roof warranties.

Easy does it. Apply the solution to the roof surface using washcloth, sponge, a soft bristle brush and/or non-abrasive pad. The goal is to use the lightest touch that will effectively do the job. Never use steel wool, wire brushes, high pressure power washers, scouring powders, paint removers or thinners on a metal roof.

Give it the final touch. Let the solution stand for 5 to 10 minutes, before thoroughly rinsing the surface with plain water.
Quality metal roofs are one of the easiest types to clean and care for, making them exceptionally low maintenance and reducing the cost of ownership for the long run. Give them a little care, and your metal roof will stay beautiful, fresh and protect your home long past 2022!