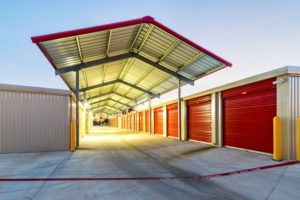 The rumors are true! Metal panels are the preferred choice for self storage buildings. As a business whose heart is the facility itself, creating a reliable self storage business is entirely dependent on the materials you choose to construct the building with. our facility must be appealing to customers while maintaining a functional, low-maintenance design. For most self-storage facility owners, metal is the go to building material. Read on to find out why!
Quick to Build, Easy to Maintain
The prefabricated design of metal buildings means that the components arrive pre-cut and ready to go. This saves time and money during the construction process. Metal buildings also save money on annual maintenance costs. Many metal panels feature protective coatings which prevent damage, preserving the longevity of a facility.
Durable
When built with metal, storage buildings can withstand high winds, heavy snow and hail. This will provide tenants with peace of mind that their property will always be protected. Metal buildings are also resistant to damage from fire and seismic activity!
Flexible Design
Metal panels can come in any shape, size, or style you need. Roll up doors? There's a metal panel for that! Steel roll up doors offer long-term value, low maintenance design and space savings, making them an ideal choice for your self-storage facility. Roof? We've got the perfect metal panels for that (and they'll last you a lifetime!). To create an energy efficient facility, consider choosing cool metal roofing colors. Metal panels and trim are also available in several attachment styles, profiles, colors and finishes to suit your needs. As your business grows, your metal building can be expanded to accommodate additional units. 
IMPs offer an all-in-one solution for your storage facility. They play a large role in improving the weathertightness of your facility, as well as providing a consistent outer and inner barrier. IMPs also require less effort and material to construct, adding more interior space to your storage units! Wondering if metal panels are right for your facility? Contact our team today to learn more. We will be happy to answer any of your questions at  1.855.838.9393 or info@londonecometal.com!