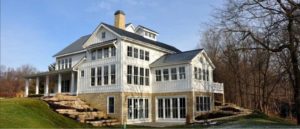 Retrofitting an existing building can breathe new life into an aging structure. Not only that, but retrofitting is an important strategy for decarbonizing the built environment and increasing a building's energy efficiency. In fact, it is estimated that ⅔ of existing buildings today need to be retrofitted before 2025 to outpace carbon emissions. So why IMPs? The significant benefits of retrofitting with insulated metal panels extend far beyond energy savings. Insulated metal panels (IMPs) are an excellent option for exterior retrofit projects thanks to their versatility, performance, and easy installation.
Endless Aesthetics 
Installing IMPs on the exterior of a building provides a fresh, updated look that can dramatically transform its appearance. Designers can choose from a vast variety of colors, textures, and finishes. All in an array of panel sizes, both large and small. The sheer variety of IMPs offer unlimited aesthetic options that compliment every type of surrounding, from urban and industrial to residential areas and neighborhoods.
Good For The Environment
The most compelling case for retrofitting with IMPs lies in the large number of buildings in need of updating and repair. If many of these buildings were retrofitted with IMPs, a significant amount of carbon emissions would be reduced. That alone makes IMPs a better choice for creating a more sustainable built environment. Once installed, the interlocking metal panels provide an uninterrupted barrier against the elements, reducing thermal bridging, preventing moisture damage, and effectively insulating the building with little cooling/heating loss.. 
Easy Installation, Easy Maintenance
IMPs are a single-component product, making them simple to install. Minimizing installation costs and potential errors; reducing overall budget and decreasing the amount of time to complete the retrofit project. Additionally, their metal exterior surfaces make IMPs low maintenance and easy to clean. It's a win-win!
If you're planning a retrofit of an existing building, consider the many benefits of installing a new exterior façade of insulated metal panels. Combining a myriad of finishes with efficient performance, IMPs are the perfect fit for your retrofit project!  Contact our team today to learn more. We will be happy to answer any of your questions at  1.855.838.9393 or info@londonecometal.com!