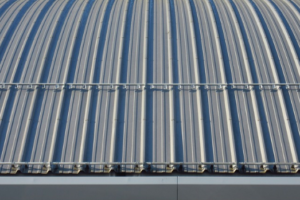 Architectural metal panels are being used in some of today's most innovative  building designs. In part for their durability and strength, but also for their undeniable unique looks, quick installation, and versatility. Metal panels possess hundreds of possible                               shapes, sizes, textures, colors, and finishes. Whether you want to add exciting accents, focal points, or upgrade to a cleaner appearance. Here are just a few of the benefits that architectural metal panels can offer on your next project:
Versatility, Styles, and Finishes
Metal panels are extremely versatile, able to be used anywhere in a building project. They can be used on exteriors to cover unsightly cladding, or used in specific areas to create  contrast with the surrounding materials. On the interior, metal panels can be used to create unique surfaces. Either textured or as a mimic of other materials with the benefits of being far more lasting and easier to maintain.
Malleability
Unlike concrete, brick, drywall, or even wood, architectural metal panels can easily be used to create complex shapes, such as curves or three-dimensional objects. Because metals are malleable and flexible, they offer many more design possibilities than competing materials.
Sustainability
All metal panels are 100% recyclable, and most of them already contain some recycled content. These panels require less energy  required to extract new materials, reducing the overall carbon footprint associated with mining. 
Lightweight
Metal panels are extremely light compared to other wall cladding materials. Reducing the load requirements for the structural components supporting the wall cladding, which can lead to lower construction costs and less complex installation requirements. On the interior, architectural wall panels can be much lighter than drywall or other materials, while offering greater rigidity.
As you can see , designing with metal panels is a great choice for any building due to their durability, versatility and relatively easy installation requirements. They can be the perfect way to create a modern look for your building or to create design features that draw attention to the structure, and the cost savings over other materials can be quite attractive.
Are you interested in enhancing your building design with metal panels? Should you have any questions or concerns, contact our qualified team of professionals at 1.855.838.9393 or info@londonecometal.com.