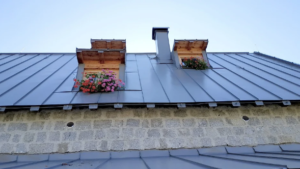 When homeowners need a durable, sustainable roof to last for decades, they choose metal. Why? Metal roofing panels provide superior protection over alternative materials. For example, during high winds, alternative products, like shingles, easily detach and fly away. The day after a heavy storm you walk outside, and the street is littered with ruins. This leaves your home susceptible to moisture, serious water damage, and even termites. What are some of the other advantages of metal roofing?
One of the key reasons homeowners today choose metal is the added protection against wildfires and fire damage. Metal roofing panels protect against fire. They have Class A fire protection, meaning that they offer additional safety during wildfires or even a local fire. Unlike asphalt shingles which can ignite even with small embers, metal roofs do not.
Goodbye Termites
With metal roofs, don't worry about pests and termites destroying your home. Termites cannot affect metal. Additionally, any other critters, birds, and pests will not destroy the roof. Compare this with the alternatives that often fall into deterioration after only a decade because of wear-and-tear, high winds, moisture, and pests.
Low Maintenance and Longevity
The prime reason homeowners choose metal roofs over other options? The unparalleled longevity of metal. Today's superior metal roof technology ensures that you will have a low maintenance secure roof for over fifty years! Historically, non-metal roofs require continuous maintenance to avoid water damage and pests. Additionally, they only fifteen years. In areas with extreme climates and frigid storms, non-metal roofs may last for only a decade. The costs associated with asphalt roofing can truly compound over time.
Energy Savings and Insulation
Finally, metal roofs save homeowners on cooling and heating costs. During the summer, the metal reflects harmful ultraviolet rays, causing a cooling of the home. With additional insulation, the roof will also provide superb insulation and warmth during the coldest summer months. Save on costly energy bills.
When you need high quality metal roof installation, call the experts at London Eco-Metal. We promise to provide you with excellent customer service and superior workmanship. Contact our team today to set up your initial consultation. Our friendly staff will be happy to answer all your important questions. You deserve a high-quality metal roof to protect your family. Contact us today and request a quote!