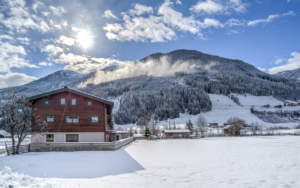 Choosing the right roofing material for your home or business will determine several key factors, like safety, aesthetics, and energy efficiency. Metal construction has seen a sharp rise in popularity. The environmentally friendly option also saves the consumer thousands of dollars over their lifetime. Here are some facts you might not know about metal roofing, from metal roof installation over existing shingles to its overall recyclability.
Save Time and Money with Installation
Installing a metal roof can save you time and money in labor costs. While the initial cost may be a higher than asphalt roofing, metal roof installation over existing shingles saves significant time over. Avoid ripping out your old roof. Check with our contractors about how you can save time and labor costs by installing a metal roof over your older roof.
Fireproof
Did you know that metal roofs are fireproof? Protect your home, business, and family with a metal roof. The metal roof will protect you from burning embers and won't catch fire.
Color Options
You can install a metal roof with any color you desire. Enjoy literally hundreds of color options for your home.
Metal Options
You can choose from several exciting metal options:
Cooper
Zinc
Aluminum
Titanium
Steel
Galvanized steel is the most popular material used for roofing. Many homeowners choose copper for detailing. Ask out trained professionals about which metal option is best for your project.
Long-Lasting
Over the course of your lifetime a traditional asphalt roof will need to be repaired and replaced over and over again. They typically last fifteen years. However, harsh weather conditions or damage from fires or storms can lead to constant costs in repair and maintenance. Compare that to today's metal construction. With metal, expect your roof to last a half-century or more with minimal maintenance.
Energy Efficient
Save considerable heating and cooling costs with your metal roof. Speak with our professionals about how you can choose the right coating and paints to maximize energy efficiency savings. Keep your home cool in the summer and insulated and warm in the winter.
Contact our talented team of roofing professionals at London ECO-Metal. We provide you with the best workmanship. Call out friendly staff today. We are happy to answer your questions. Schedule a consultation.