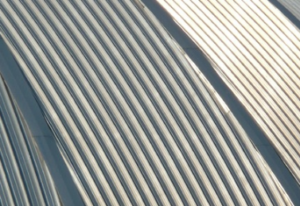 Want the benefits of a fireproof, long-lasting, and attractive roof? Residential roofing has countless benefits to both homeowners and the environment. With countless metal roof options, impressive longevity, and safety that beats traditional asphalt roofing in any contest, savvy homeowners today are choosing metal roofs.
Proven Performance for 50 Years!
Depending on your climate, expect to change a traditional asphalt roof every fifteen to twenty years. Homes that experience harsh weather conditions like freezing temperatures, significant precipitation, high winds, or large amounts of snow need to be maintained considerably. Metal roof options include anything from attractive shingles that mimic traditional roofing options to more architectural styles.
Yet each type has one thing in common: Your metal roof will last for a lifetime.
Metal roofing has a longevity of half a century or more with relatively little maintenance. While metal roofing has a higher upfront cost, homeowners save thousands of dollars. Metal roofs suffer minimal damage over time. They are not affected by termites, mold, and moisture like traditional roofing.
Most homeowners only install a metal roof once in their lifetime!
Fireproof and Wind Resistant
With natural disasters, wildfires, and massive storm systems cropping up more and more each year, having a reliable roof to protect your home and family is a must. The interlocking panels of a metal roof means that you don't have to worry about leaks, flying shingles, and serious damage when that next snowstorm or high winds hit.
Metal is fireproof. During a fire, your roof is resistant to any flying embers that might ignite. Your home will be protected. Save damage and lives.
Energy Efficiency
Finally, your new metal roof will save you money in energy. This sustainable form of green construction keeps your home cooler in the summer and locks in heat. Call us today to find out how we can help you install your new metal roof. Talk with our talented professionals.