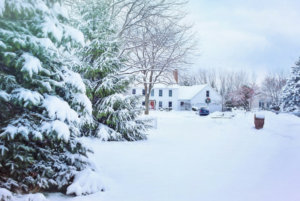 For homeowners and business owners in harsh cold climates, a metal roof provides unique benefits. Winterize your home easily with a metal roof. What are some of the key advantages of metal roofing and cold weather? Let's find out.
Winter Installation
Believe it or not, many construction professionals don't mind installing a metal roof in the winter. Winterize your home in the winter? Yes, you can with metal roofing. After shoveling the snow and staging the installation, your professional installers will quickly install the roof without compromising the overall quality. Because metal panels do not bend, break, or crack in harsh cold temperatures, they are ideal for installation in the winter.
Designed for Cold Weather
Metal roofing sheds water and ice. The metal panels prevent ice and snow build-up. Snow does not accumulate. Don't worry about ice dams when you have a metal roof. Heavy snow and ice simply slide off the roof. Don't worry about damming the eaves in the winter. Avoid water damage from leaks. Maintain your home's structural integrity.
Warmth
Keep your family warm with a metal roof. Stop temperature fluctuations in the attic and drafty spaces. The additional snow on the metal roof adds an extra layer of insulation.
Long-Lasting Durability
Your roof will last for fifty years or more with minimal upkeep. Don't worry about damage from water, fire, or harsh winter weather. Enjoy decades of warmth, durability, and protection. In fact, most homeowners never have to install a roof again in their lifetime! Enjoy priceless security for a lifetime.
Contact our roofing professionals today for an estimate. Enjoy your metal roof for a lifetime.