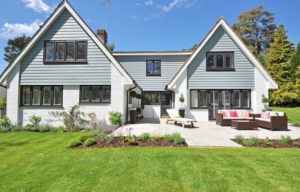 Over time, most roofs will need to be replaced. Whether you opt for a metal roof or other roofing options, every homeowner needs to know the basics of replacing a roof. When determining the roof replacement cost of your home, it is important to consider several factors. Each factor places an important role in the end costs of construction.
Roof Size
A quality roof installed by a professional contractor will add value and security to your home, as well as basic curbside appeal. Homeowners planning to sell their homes in the near future often find that an upgraded roof is one of the first factors that potential buyers look at when purchasing a home.  While there are many factors determining the roof replacement cost, the biggest factor is the overall size of the roof. Pitch and accessibility also play a role, but roofers charge per square. Expect to pay thousands of dollars for any major roof replacement.
Materials
Some roofing types can be installed over an older roof. And sometimes a homeowner only needs to replace part of the roof or only one roof (the garage roof might not need immediate replacement, for example). Asphalt roofing is often considered the least expensive roofing option. Other affordable options include metal and tile roofs. Slate roofs can be considerably more expensive than metal or asphalt roofs.
Labor
Sometimes additional water damage is discovered during construction. This can add to the overall cost of the roof replacement because it adds to overall labor costs. Remember that labor is often one of the biggest costs of any construction project, especially if you have a large team working on your site. Be sure to speak with your contractor about how they handle additional damage and labor costs. Other factors that can add to the cost are chimneys and skylights. Speak with a seasoned professional about the costs of your upcoming roof replacement.