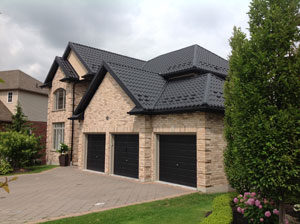 When it comes time to replace the roof more and more people are exploring the possibilities of steel roofing. When they're first quoted a price however, some balk because steel roofing will typically cost a bit more than shingles to install. But with steel roofing there are a number of reasons to look beyond the initial sticker price and embrace this new technology anyway. And most of those reasons have to do with the fact that steel roofs in London will actually save you a significant amount of money in the long run.
The Many Economic Benefits of Steel Roofs in London
In some cases steel roofing will cost more upfront than some other options such as asphalt shingles. But initial out of pocket expenses only tell part of the story and don't take into account the many long term economic benefits you'll enjoy because of your new steel roof. Benefits such as:
Energy savings – Steel roofs are engineered to reflect heat during the summer months. This allows you to ratchet back the air conditioner and save money. But there's another economic benefit to this as well: an HVAC system that doesn't have to work as hard is one that will last far longer. So you'll not only realise monthly savings on your energy bill, you won't have to spend money maintaining or replacing an overworked HVAC system.
The true cost of asphalt vs steel – While it's true that asphalt shingles often cost less to install what isn't mentioned is that you may have to install 3 asphalt shingle roofs over the course of the expected lifetime of 1 steel roof. So the way to calculate the real price of asphalt shingles vs steel is to multiply the cost of a shingle roof by a factor of 3 and compare that to the cost of a single steel roof installation. You'll then see how much steel will actually save you in the long run.
Durability – It's one of the hallmarks of asphalt shingles that after an extreme weather event you'll see big patches on the neighbour's roofs where the shingles have been ripped away, exposing the interior of the house to the elements. This will not happen with a steel roof. Steel roofs form a unified front against the elements that makes them extremely tough, durable and long lasting. So you won't have to pay to repair them after every heavy weather event.
Insurance savings – Because it's more durable, because it's safer than asphalt in a fire situation and because it won't blow away when the wind picks up steel roofing will often result in a reduction in homeowner's insurance premiums. And not just for one year. For every year you have the steel roof on your home. Just one more way steel roofs in London provide real, significant long term savings.
Steel roofing may cost a bit more up front but over the long run you'll wind up saving boatloads of money compared to standard asphalt shingles. Contact London Eco Metal to find out more.