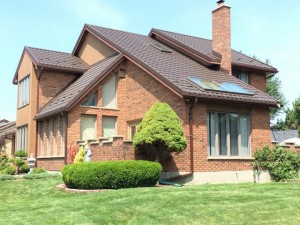 Metal roofing in Toronto has come a long way. Once derided for its "one-look-fits-all" aesthetic metal roofs today have graduated from the tool shed and are available in a wide variety of colours, finishes, styles and textures. As a result, selecting the right metal roof for your home is now a bit more complicated than it was say, 20 years ago; but it's the kind of luxury problem most homeowners enjoy. In this post we'll look at some of the different types of metal roofing options available to you.
Metal Roofing in Toronto Has Graduated to the Big Time
Metal roofing in Toronto has become such an affordable and yes, attractive, option that the number of homes with metal roofs has exploded. Here are some of the aesthetic options you'll be mulling over when the time comes to install your new metal roof.
Raised seam panels – This style of metal roof is wildly popular in wet, snowy areas like Toronto. The raised vertical seams and smooth panels help control and direct runoff into the eavestroughs in an orderly manner and don't let heavy snow get a foothold on your roof where it can cause problems. Now available in an array of colours to fit any home raised-seam panels are the most adaptable type of metal roof design.
Pre-painted, press-formed modular panels – This type of "panel" is small and intended to mimic the look of everything from ceramic tiles to wooden shingles and more. If the raised seam panels say "metal roof" a bit too loudly for you take some time to investigate your modular press-formed options. You'll be able to maintain a traditional look while enjoying the benefits of the latest in contemporary roofing technology.
Granular-coated press-formed panels – Take the faux shingle idea to the limit with press-formed shingles that mimic the grainy surface texture of asphalt tiles. A perfect look for older homes or new homes that embrace traditional architectural motifs these mini panels are attached to the roof with hidden fasteners and then coated with a spray-on acrylic finish with tiny stone granules embedded in it for that authentic asphalt shingle look.
Colours – Choosing the right colour, whatever style panels you decide to install, is the other major aesthetic decision you'll have to make when it comes to your metal roof. Metal roofing in Toronto can be painted in nearly any colour to match any home. Just be sure you choose a paint that will block UV light, and think about adding a coating or sealant too. This will help the paint last longer and look better and will help protect the metal from mold and rust.
London Eco-Metal is a leading manufacturer of high quality metal roofing. Since our inception in 2009 we've installed metal roofing in Toronto for scores of residential and commercial clients. If you're considering the many advantages of a metal roof for your home give us a call and talk to one of our roofing specialists. They'll help you simplify the process of selecting the right style metal roof.