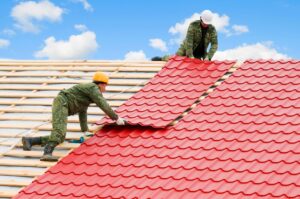 We know you are as excited as we are regarding your upcoming metal roof installation. After all, you're about to be the owner of an eco-friendly, durable, and eye-catching metal roof that will protect your home for decades! However, no big project comes without the necessary forethought and preparation. To help you prepare for your metal roof installation, we've compiled the following checklist.
Before Installation
Before workers arrive, be sure to complete the following:
Clear walkways and other areas of the job site for easy maneuvering.
Work trucks can be large and carry heavy loads! Make sure any personal vehicles, bikes, and toys are moved to accommodate them.
No crew member comes without tools and equipment! Predetermine an area where the crew can leave their tools as well as personal belongings.
If you have shrubbery or other plants surrounding your home, cover these with a tarp to prevent unwanted metal scraps from falling into them.
Good manners are important! Make sure your neighbors are aware of the upcoming, somewhat noisy, roof installation.
During Installation
While the crew is busy installing your gorgeous, long lasting metal roof, make sure:
Any pets have been tied or brought inside.
Children are in a secure area away from the job site.
Any loose items are secured in case the house shakes.
Dumpsters (your contractor should arrange this) and trash bags are available for scraps and other waste.
There may be an increase in dirt flying around; keep doors and windows shut to avoid any dust entering your home.
At the end of the day, a successful and easy roof installation boils down to good communication. Knowing expected work periods, no-go areas of your property, which doors/gates should remain shut, and other tiny details will all contribute to a smooth installation. When you know what to expect, you can better prepare yourself for your metal roof installation. To recap:
Before: After choosing the best contractor and bid, prepare your building, yard, neighbors, children, and pets for the install.
During: Expect a lot of activity, people, and loud noises during the installation. Try to avoid hovering over workers and only communicate with your main contact about any concerns.
After: Make sure the work is done to your liking, you know how final payments are collected, and you know how warranties are handled.