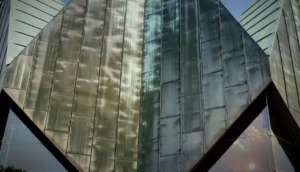 Metal roofing has grown in popularity over the last few years. Why? With sustainable construction, quick metal roof installation, and durability that lasts, metal roofs provide home and business owners with decades of protection and security. One of the key benfits to metal roofing involves installation. Avoid the hassle of removing your old roof when you install a metal roof.
Metal roofs can be installed over existent roofs. Speak with our contracting team at London Eco-Metal about how you can save money on labor costs and time with easy metal roof installation. In many cases, you will not need to remove your older roof. This saves you considerable costs in demolition and labor. You also reduce costs due to human error or accidents. Ask our experts about installing a new roof on your existing roof.
Most metal roofing has relatively short installation in comparison to traditional roofing. With a wide variety of styles and types, you can find the perfect metal roof for your budget. Enjoy the durability of your new roof.
Benefits of Metal Roofing
Discover the many reasons why metal roofing has become such a hot trend in construction and homebuilding. Metal roofs have many key benefits including:
Fireproof
Termite Resistant
Cools Homes in Summer
Superior Insulation in Winter
Withstands Harsh Winds
Good for Extreme Weather and Climate Change
Sustainable
Energy Efficient
Increased Home Value
High End Look
Beautiful Styles
High Performance Expectation
Environmentally Friendly
Last 50 Years or More
Little Maintenance
Many Colors and Finishes
Every homeowner will benefit from a metal roof. Green construction takes advantage of the latest in energy efficiency technology. Use the latest innovations to protect your home and family. Never worry about high winds or harsh temperatures again. In fact, most metal roofs will last upwards of fifty years with little maintenance or costs. Compare that to asphalt roofing which might result in complete replacement every fifteen years, especially in harsh climates with strong winds.
Contact the Metal Roofing Team at London ECO-Metal
Contact the metal roofing experts at London ECO-Metal. We pride ourselves on superior workmanship. No matter your budget, we will work with you to find the metal roofing solution that you need. Call us now. Our friendly staff will be happy to answer your important questions. We will be happy to hear from you.