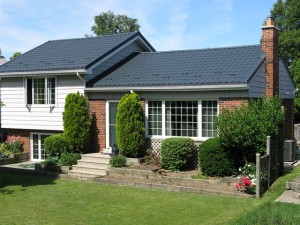 Today's metal roofs are wonders of economy and functionality that will help you save on your energy bills, enhance the curb appeal of your home as well at its market value and last for decades; negating the need to have the roofers over every few years to tear things up and start again. A metal roof will supply all the benefits of wood, asphalt or tile as well as many other benefits unique to itself, but only if it's installed properly by a qualified metal roofing contractor.
Steel Roofing Ottawa Calls For Professional Installation
Attempting to save a few bucks by selecting an inexperienced company or one that does steel roofing in Ottawa as a side business is asking for trouble. A poorly installed metal roof inadequately sealed against the elements represents a slow motion disaster for your home.
Mold infestation – Mold in the home is no laughing matter. Mold is responsible for scores of allergy related illnesses, lost work and expensive visits to the doctor. Certain types of mold found in the home can even be fatal. Water leaking through an improperly sealed roof can accumulate in the attic saturating the space and providing mold spores a comfortable home.
Rotten drywall – Drywall and water were not made for each other and prolonged exposure to water leaking through the walls from the poorly sealed roof will in time turn your walls into oatmeal. If your ceilings happen to be made of drywall as well you could be in for quite a surprise one evening while watching TV as large chunks of mushy drywall land in your lap.
Loss of structural integrity – Wooden rafters, wall and floor joists were never intended to be wet all the time either. Moisture leaking in through a poorly installed roof eventually saturates the wood weakening it and, by extension, weakening the structural integrity of the house. There are many negative effects of a leaky roof. This may be the worst.
Electrical chaos – Water seeping down through the walls of your house doesn't only encounter wall joists and drywall. It also shares the space with a network of electrical cables. Water can create short circuits that have the potential to ignite fires, cause explosions, generate arcs and cause your home to lose power.
Property damage – Your rugs, furniture, wallpaper, artwork, books and more can be permanently damaged by leaking, seeping or dripping water. This may seem like pretty small potatoes when compared with some of the other damage a leaky roof can create but consider this: drywall is relatively inexpensive to replace, that Persian carpet is not.
London Eco-Metal is your best bet for the installation of durable, beautiful steel roofing in Ottawa and vicinity. No one in the area has more experience installing metal roofs than we do and no one takes more time and care to ensure your new metal roof is properly sealed against the elements. Don't gamble with the long-term viability of your home, call the company more homeowners choose for their steel roofing in Ottawa: London Eco-Metal.